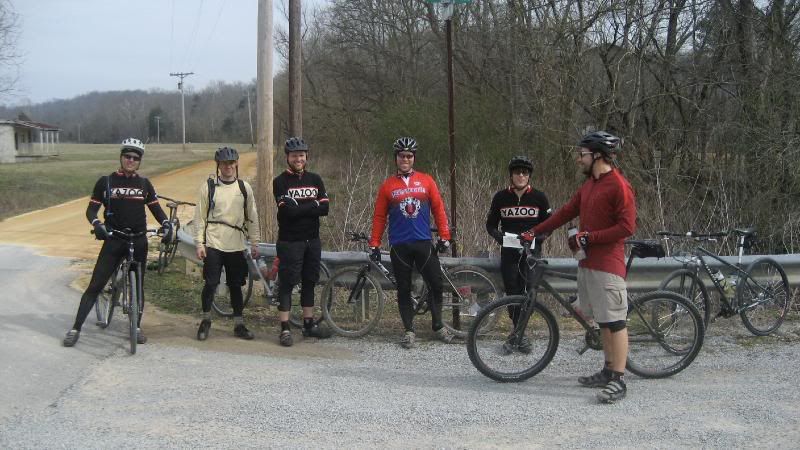 I jumped in on a long haul trucker gravel grinder this weekend. Thad is known to plan these and I always hear about how much fun was had but hadn't participated. I wasn't ready physically for this ride, having not had a decent ride since the Snake. My bike wasn't really ready considering I was using a test saddle that I'd never ridden on before. What better way to test out a saddle.... a 73 mile ride! A good group came out to play, we had Thad, gRant, Mike N, PTJim, (mean)Adam, and Scott M.

73 miles.... wow! Can't say I would of said that I could do a ride like this if you'd asked me last week. The plan was a 50-70 mile gravel grinder. I signed up and secretly hoped it would be closer to 50, which would only be about 10 miles out of my comfort zone. Well, I'd say about 50 miles of the 73 were out of my comfort zone. Thad had his trusty, crusty map hidden in the protective zip lock case. He lead us all over the country side starting from Leipers Fork. A friend from NMB asked me where we rode. I was about to give a quick answer and then thought, hmmm I don't really know where we were and where we rode. I just know we started in Leipers Fork and ended in Leipers Fork. We rode past some amazing country side. I was able to glance around a few times and really just soak it in. I'd think: wow, I've been riding my bike for hours, this scenery is amazing, I'm cruising.... it all would hit me at one time. This type of riding is just awesome. So rewarding, friendly competition, personal challenges, great camaraderie, the sense that you are away from it all yet still connecting with people.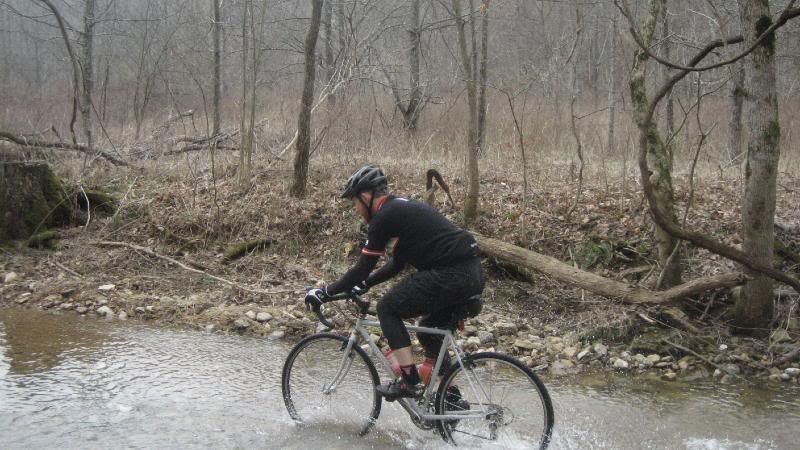 Thankfully Grant manned up and brought his camera and volunteered to carry it on the journey. He got some great shots that really bring back the ride in my memory. All the pics included here are from Grant, minus the beer shot post ride. We headed back to downtown Franklin to hit up 2 for 1s at McCreary's but they were just too busy for us. By the time we would of gotten a table happy hour would of been over. The decision was made to head down to Mellow Mushroom instead. We enjoyed a couple pitchers of pale ale and some great pizza. Everyone was just feeding their faces. Grant and Mike suffered from the food sweats, maybe they need to up their eating training.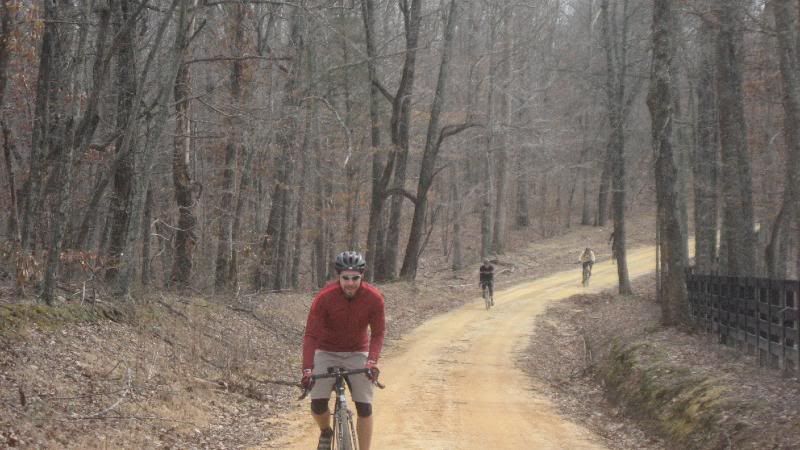 On the saddle front the Selle Italia Flite did ok. I didn't have the same degree of numbness as I had using the Rocket V ti, but there was still some there. I tried my best all day to stand up a lot and move around frequently so to not be sitting more than I needed. Not sure if this helped more than the saddle change. Overall, I'd say I'm not fond of the Flite saddle. I feel it is a bit to narrow for my anatomy. I realize you should put more miles in on a saddle before making the final judgment but I don't think I can with this one. I may exchange it for one other Selle Italia model, but I have a saddle in mind now that may just be the answer for me. I'm really close to buying a Selle An-Atomica saddle. I've been reading all about them and the research they've done and is sounding like it's worth the price of admission. Unfortunately it has a stout price tag of around $160 but the Flite Ti that I just demoed sells for $150. Can you really put a price on comfort? The An-Atomica is supposed to be very similar is style to a Brooks, with a slightly different shape, different leather (with less break-in time) and a cut-out down the middle. (I know, cut-outs are marketing hype and don't work..... blah blah blah) The marketing hype for this saddle has me interested and I'm gonna try it out.

You can read some other great write-ups on our gravel grinder on the following links:

J5's blog
Grant's NMB post #1
Grant's NMB post #2
Pumptrack Jim's NMB Post

We'll end with a beer shot....