I didn't have a lot of engineering work this week so I tried to pedal as much as I could. I wanted to take advantage of the free days so when it's nice out and I'm at work, the sting of not riding isn't so hard.

I took sunday off as I could barely walk with some calve cramps from DSG. I ran errands by bike on monday and got in about 15 miles. It was fun to hit up Kroger for groceries with the chrome bag and then head into town to drop off a hard drive and microphone at a studio, all by bike.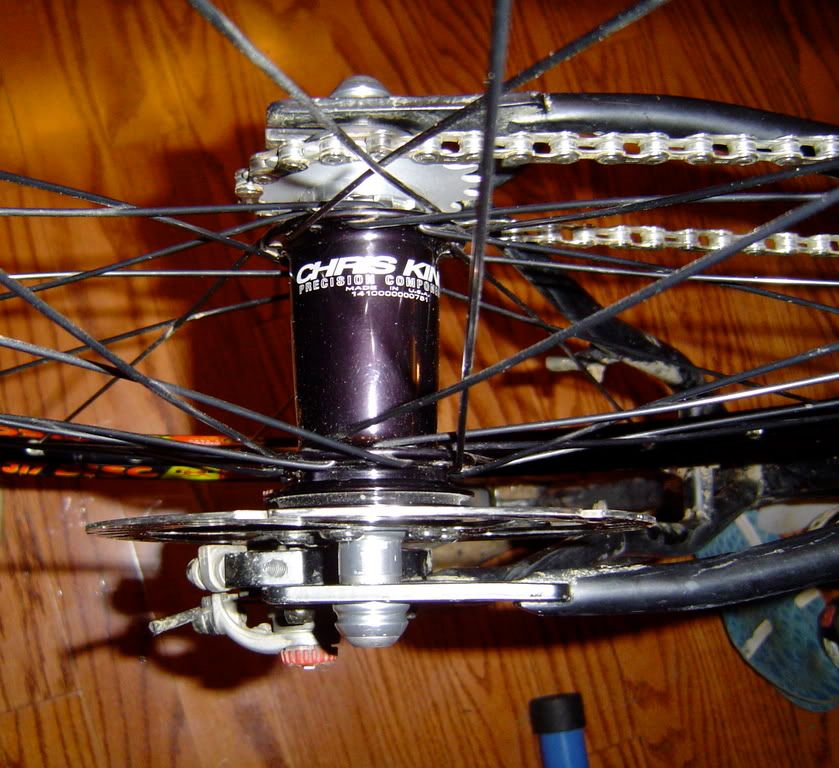 Tuesday came around and Reed and Ricky D were planning a night lap out at Lock4. This was Ricky's 'vacation' from Hawaii and he was trying to fit in as much riding as he could. He'd never ridden at night and I hadn't ridden Lock4 in a while so I was excited. I left a bit early to get a lap in before the other guys showed up. I had a new Chris King rear wheel to try out on the Soma and I just wanted to ride as much dirt as I could fit in. This first lap was awesome! I felt great, I had some tunes going, the King wheel was working flawlessly and I was wiping through the woods. I was running my usual 32x17 but it felt easier than usual. I guess I had some strength built up from DSG to let out. Once Reed and Ricky showed up we donned our lights and went back out. Night riding is always fun and makes the same ole trail a new experience. This lap was more relaxed than my first and my gearing was feeling more like 32x17 usually does. I didn't have the same spark I started with, but I enjoyed another great lap and Reed and Ricky were great riding partners. Reed was riding his brand new autographed Gary Fisher Rig he recent purchased from a DSG raffle winner. After the loop Ricky decided he wanted to save some legs for the next days excursion to Raccoon Mtn so we went off to dinner at the crack(er barrell).

I decided last minute to jump on the bandwagon for the Raccoon Mtn trip and I met up with the NMB crew down in Murfreesboro at 7:30. Reed convinced me to bring my 'big bike' Ventana with gears since he was bringing his Moment and Tim was riding his Uzzi. I toyed with bringing the Soma, but finally I decided... "sure, no problem I thought. I wouldn't want to be the only one on my SS anyways...." Wrong decision number 1. I had it all justified in my head. The Ventana was running well post DSG mud. It was somewhat clean with a clean drivetrain. This would be a fun leasurely ride around Raccoon Mtn. Well after a few miles of playing around the rocks, we were making headway on the 16 mile loop. We were all enjoying ourselves. Sessioning sections over and over and taking lots of pictures. Then I start getting some gear jumping. crap! I check out my hanger (the only thing I ever have trouble with gear wise) and it looks tweaked a little. I bend it back out and it works fine for another mile.
Crisis averted (I thought). The mis shifts come back and worse than before. I get off, fix hanger, ride a bit, get off, fix hanger. This is getting old FAST! Carl, from Sun and Ski, is riding with us and helps me with my derailleur. It's beyond fixing I tell him. My hanger is tweaked and one of the two screws that holds it in is stripped so it's not really that it's bent a little, it's that it won't stay in one place and is moving as I ride. Luckily after this last stare at the drivetrain and will it to work, I find a gear that gives me the straightest chainline. I ride without shifting for the next mile with no issues at all. Ok, I'm good... I'll just ride this singlespeed for the rest of the trail. It wasn't that bad, even with the added weight and squishy platform. I had a few hills to grunt up but I made them all without dismounting. I finally come the realization that this is the 3rd (maybe 4th) time I've gone on a bike trip somewhere, brought my Ventana, and either had issues, or just wanted to be riding my singlespeed instead. I decided change was in order. My mind churned the entire ride home and is still whirling with ideas. Pretty sure I'll be selling my Ventana, keeping the select parts I want and (hopefully) buying a new single speed frame. Not sure if I'll keep the Soma. We'll have to see what my budget ends up like and what I can get
for the Ventana. Prepare for a few posts about frame options, builders, materials and the like. The bug is deeply set and the research has begun.

Yesterday was Walk/Bike Nashville's Bike to Work day. Thad was organizing a delivery of donuts and coffee to Harpeth Bikes in Franklin and I offered to help with the delivery. Delivery by bike that is. Sure we could drive the lot over to the bike shop, but where is the fun in that, and it IS Bike to Work day. I rolled out early, real early like 5am, to the farm. It was awesome to be out when it is so serene and the sun wasn't up yet. After leaving a bit late and misjudging the commute a bit, I show up at the farm about 15 minutes later than expected. The sky is ominous and they are calling for storms later so plans change a bit. Thad's concerned he over ordered at Dunken Donuts and that we won't fit the cargo in the bob trailer and rack he has. We decide to drive to Dunken and then leave the truck at work and ride from there if we can. We ended up having no trouble at all getting all the donuts and coffee packed between our two bikes. The bob trailer hooked up the crosscheck nicely and Thad mounted a 10 cup coffee box to his rear rack and we were off towards the bike shop. After getting everything setup and hanging with Henry for a half hour we started to realize that people weren't coming by. We ended up with 2 guys biking to work and H came by to visit. At least the 2 guys who did come were truly biking to work, as they do everyday, and just happened to come by, not knowing anything about the 'event'.



It was fun hanging at the shop for a few hours though. Thad spent forever working on custom paint jobs for a Serotta he'll never get. I did some new frame drooling online, and we both watched Henry start a custom fitting for a customer, all the while eating donuts and drinking coffee. (someone had to eat them!) As 10am came, Thad needed to head to work so we loaded up a pack of donuts and rode back to his job. I dropped in and got to see his little work world and his boss appreciated the free donuts. I took off the trailer and started my ride home. I decided to take the longer, safer route as I had until 3pm to be home.


I rode Thad's usual commute back towards the farm, then went on down Old Natchez the way i usually ride to the farm from home. The weather turned out to be perfect with temps in the 70s and clear blue skies. I love riding on the south side of town, through all of the farms and huge yards. I decided to riding in and through Percy Warner park on the way home to add some mileage and fun. They were setting up for Steeple Chase so there was activity everywhere. I think technically the route I was on was closed, but no one said anything to me. I rode the rest of the loop back to the Belle Meade Blvd entrance and hit Harding Rd back to the house. My legs felt great all day and it was fun to get some new riding experiences in. I'd never ridden with a bob trailer, let alone one filled with 3 12-packs of donuts, 1 pack of donut holes and 20 cups of coffee! I ended up with 53 miles for the day and was home before 12pm.

I'm working a vocal session today and have a lot of Mother's Day plans tomorrow so I may not fit in another ride this week. I need to try to squeeze one in tomorrow if I can since my work schedule next week looks packed. Spring is in full force here in Mid Tn and thankfully the weather has been super cooperative to my riding schedule.

Next up.... single speed frame options and ideas.... I'm working on my short list of companies/builders and may start sending out some emails/calls.

More Bike To Work Photos HERE