So this past Sunday was the
TBRA
series race held at Montgomery Bell State Park. I didn't have plans in advance to race, but kept the decision a late one. I just kept it in the back of my mind as something to do if my schedule allowed. I still have memories of the race last year and how hot everyone said it was,
people being dehydrated and having cramping issues and suffering through the tough course. Monty Bell is challenging for me to ride so racing it has always seemed daunting.
After riding all day in the
Tour De Chamois (Nash)
with the
Yazoo boys
I was actually feeling pretty pepped to race. Some would say taking 7 days off then riding 55 miles Sat and racing Sunday isn't a good idea. Well people say many things and I'll admit I had the fleeting thought that it was dumb. But hey, my schedule allowed it and I wanted to do it. It also gave me a great ready-to-use excuse for a poor race....."Did you ride 50 miles yesterday?"
So up early once again
(sleep is for sissys)
and got the truck loaded and out the door with coffee. Carb loading at the tap room crossed the line into hangover territory so I wasn't feeling so fresh.
It was nice to get to the trailhead with ample time to socialize and get my gear together and my food/hydration sorted out. Finally remembered to take the Sport Legs before the legs started pushing hard. This will turn out to be my saving grace. SSers were set to start the day of racing so we line up and they sent us off shortly after 9am.
They cut a new entrance to avoid the hard turn so we're into singletrack almost immediately and getting settled in. For once I feel ok where I am and am not falling back immediately. I actually passed someone after about 2 miles. Course I was passed by everyone and their moms in the geared sport classes behind us. Starting early is great for the fast SSers, us slow guys get passed a lot.
I tried my best to push the pace where I could and recover whenever possible. My legs felt tired, but not spent. I felt pretty good for most of the first lap though I was sweating like it was 100 degrees. Really it was more like 75 with about 90 percent humidity.... you could tell the rain was coming. I tried my best to stay hydrated and I was feeling great on the fuel standpoint. This was my first race with only water bottles and it was proving a bit difficult for me to get enough fluid without slowing down to drink.
After pushing hard up the long pine needle climb I took some time to recover and drink. I suffered through some of the climbs in the Yellow section and really started wondering how I was going to bust out a second lap. After climbing back out towards the finish line area to start my second lap I gained some momentum. One of my
DSG teammate's
son was at the finish line and called out to me, "Way to go Mr. Greg!" wow... what a boost! I mean first off, I always try to look like I'm not suffering too bad when riding by the crowd, but when Jacob cheered me on (who's around 12) I go a new pep in my step and rolling right into my second lap. Took the opportunity for a gel and fluids during the next 1/4 mile and then tried to push the pace back up.
Second lap kinda went by as a blur as it generally does. I'm new to racing but I'm starting to see a trend for me in these two lap races. I push hard the first lap, and always have the worry of blowing up too early. Then I start worrying about if I can even ride a second lap when I am really suffering. Then the second lap comes and goes and all the sudden I'm a few miles from the finish and thinking that I don't want to leave anything on the trail and I push it til the end. TBRA racing in a nutshell for me. I do remember it cooling down and then starting to rain in the 2nd lap. That also raised my spirits... I had the thought "yea, this is real mountain biking pushing hard, riding in the woods and the surprise rain storm."
I had a clean race with no mechanical issues and no crashes. I did pivot around a left turn while leaning on a tree and gotta bruise from that but no lasting damage. The race was run very well and went off very smooth. Swag bags were filled with gel and a t shirt and they provided free food for everyone! Top notch! The course was labeled beautifully and allowed you to really ride 'dumb' and worry only about what's coming right up and not where to go. I did almost go off course in a moment of weakness at the top of Tommy's Revenge. Since I've ridden this trail a lot, but didn't do a preride of the course, my bike kinda went on autopilot at the top of the climb and I turned the corner and rode right under the red tape. I immediately had a "what the ..." moment and got off and turned around. It made me laugh...the bike was on autopilot.
But back on the race organizers. Bravo guys! Great job and thanks for the quick posting of results! Thanks for finding my lost saddlebag contents too.
I didn't take any pictures during the day and very few have been posted thus far. You can view a few here:
NMB Pic Thread
Edit:
Late picture additions....
James Weeks was on hand during the race shooting awesome pictures of all the racers. You can view the lot of them on his photography website:
James Weeks Photography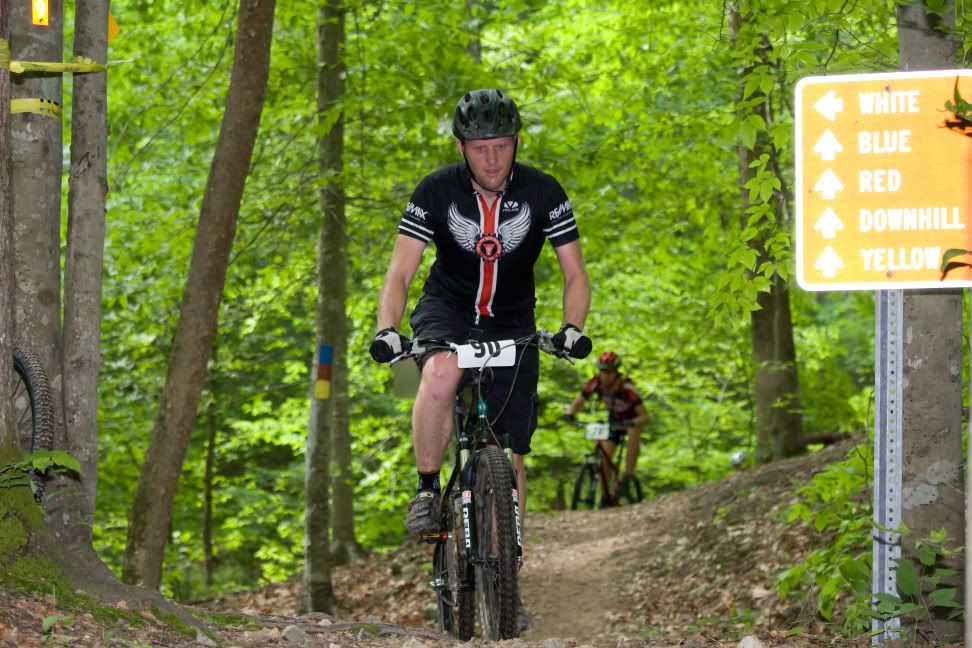 photo credit: James Weeks







Jeff Scott pushing through the finish line
photo credit: James Weeks