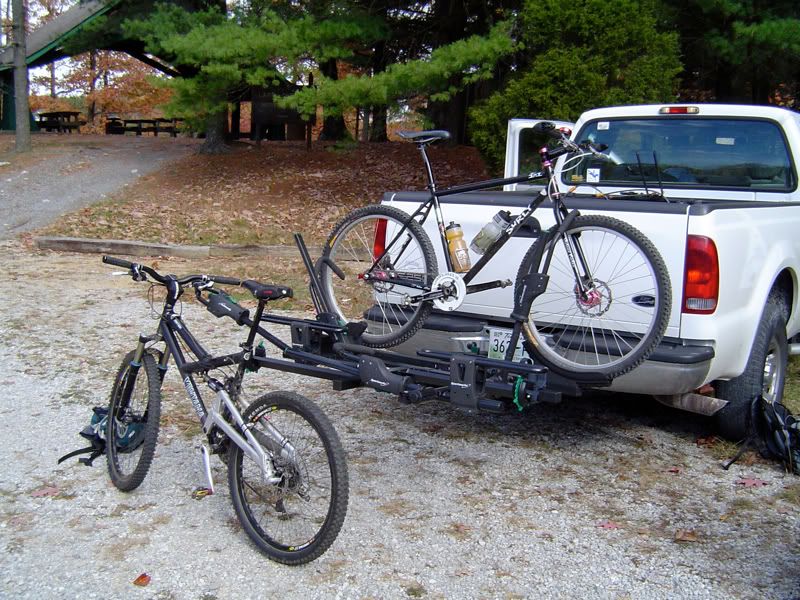 After staying up late playing on my computer and being an uber geek, it was up at 6:45 and preparations for another trip to Sewanee. The usual cereal and yogurt for breakfast (should of had eggs) but no time for coffee....didn't plan that into the morning routine. Showed up at the farm to meet Thad right on time and was greeted by some hyper dogs and some hot, tasty doubleshot coffee. (not Starbucks, don't be confused.) We waited for Hawt Mike to arrive and packed up the diesel.

We arrived at the trailhead a while before Jut and the rest of the crew so we tooled around practicing skinnees and checking our bike setup. Mike quickly realized he had a pedal issue so the tool box came out and a make-shift hammer was the tool of choice. Unfortunately the pedal wasn't cooperating, even after repeated wacks, and the Hawtness was forced to ride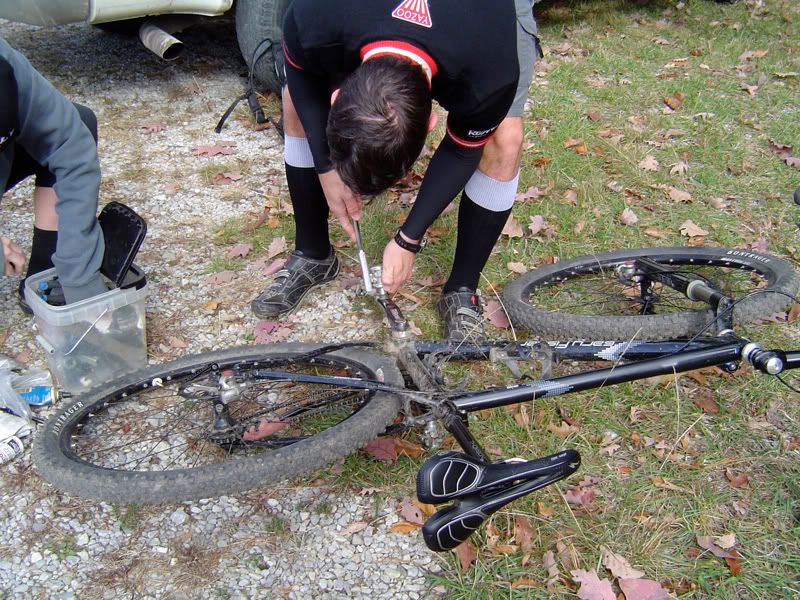 with only only one side of his pedal operating. Jut and Elliot and Dunnsy showed up and got their gear together. We all eyed Jut's new ride and chatted for a bit before heading into the trail and starting our ride.

This trail has, by far, the best first mile of any trail I've ridden. It starts flat for about an 1/8th mile and then heads down a rocky, rooty, eroded section of trail which was completely covered in leaves. I was already thinking I made a good choice bring the squishy bike. The first 4 miles of trail are pretty technical with a couple of hike-a-bike sections. I was able to ride up one of these that I walked last trip when I was on my SS, but the others I still had to dismount. After stopped for a couple great look out points, we started into the flowy section of trail with many short ups and downs. It was clear early on I was in the worst shape of the bunch so I settled in the back of the pack and just rode my own pace.

Overall it was fun to ride the trail on a different bike, but I think I was faster on my SS when you take the entire 17 miles into account. I had a faster top speed on my squishy but only by a half a mile an hour. There aren't any substantial or long climbs so I think the SS is better for climbing. You get to stand and use your bigger muscles and then recover on the next downhill.
My full suspension bike isn't the most efficient pedaler, even with the platform shock. It's not terrible, but you really need to stay seated and spin, standing really saps a lot of energy and you don't get the acceleration that a hardtail has. It was obvious after the ride that my body, as a whole, was less worn out than after riding my SS, but my legs were spent. I was fighting off quad cramps or the last 3 miles of the ride and even stopped a couple times to stretch and walk up a few hills. Another reason to ride a SS: It's more frustrating to have to walk up a climb with your full suspension bike than your SS. At least with a SS you expect a certain amount of walking.

Shenanigan's post ride was once again awesome. We even sneaked in a Starbucks stop on the way home to recharge. I got back in town and raced home and cleaned up. Then Beth and I headed to Tayst for a wonderful dinner with her parents. We shared a great bottle of petite syrah and I had the shrimp and fried oyster plate and Beth had the escalar fish plate.

I relaxed on Sunday and decided I wasn't going to ride. Beth and I went to the Sprint store to check out some smartphones. I played with the HTC Touch and the Palm Centro. The Touch
was kinda cool, and has a definite similarity to the iphone, but didn't seem quite right. The touch controls didn't work everytime and I worry about not having any sort of keyboard for quick dialing or one handed operation, like while driving or something. (not that you should be dialing and driving anyways.) The Centro seems cool and has a nice pricepoint. I'll probably get that one once I get a plan I like, and can afford. It seems easy to use, the only drawback I noticed in the store was the web doesn't render as nicely as the Touch. I spend the evening surfing the internet researching phones and Sprint plans. I found out about a cool employee referral program that I am going to try to see if I can get on. My current phone is really showing it's age ( 3 years old) and I'm not in a contract anymore with Sprint. Hopefully I can get something worked out that's affordable.

Late edition: Video of Thad riding around the parking lot... yea... hawt....
http://s7.photobucket.com/albums/y281/Chewieez/?action=view&current=ThadRiding.flv