I got out this morning for a ride at Monty Bell with Adam and David (Onespeed from NMB). It was about 32 degrees when we started but felt good. It was my first ride this year to even wear long sleeves, let alone leg warmers and a jacket. It was quite the wake up call to my current fitness level, which is non-existent. Thankfully no-one was in a hurry so they didn't mind waiting for me to catch up. We were all on SSs which was fun. David was rocking a Bianchi and Adam was rocking his new Surly 1x1 69er . Adam was the clear winner of style points for the day and was hopping everything and pulling wheelies everywhere. I was the only one with a suspension fork and got a little ribbing. My pop-loc lever is still broken from my polo accident so I rode the first half of the day with it locked-out. My hands started to get real sore and I was getting tired from my lack of riding so I eventually gave up and unlocked it and left it that way. I couldn't lock and unlock it on the fly like I'm used to so I just had to stick with it in one state or the other. Onespeed was telling me I should get a carbon fork like his to lighten my bike 2-3 lbs and Adam was sayin' "Greg, you should borrow a rigid fork from someone and try it out. I bet you'll like it." I think the jury is still out for me. I like having the option with the pop-loc and generally lock it out for the climbs. I'm also thinking about trying to get some custom spacers so I can set the Reba at 80mm instead of 85mm to help out the steering.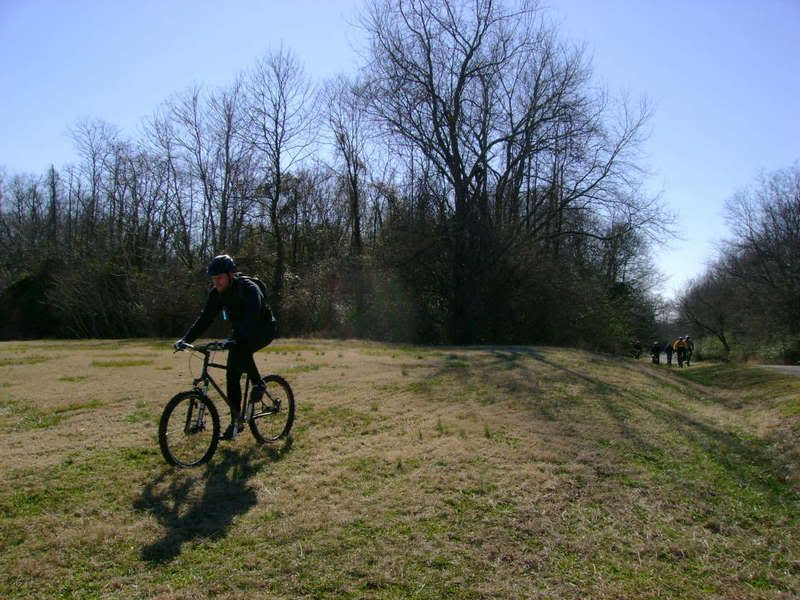 There is already talk of planning some Braggin' Rights Races for this off-season. Mike N. organized some fun races last year. I'd love to host one at Hammy if it's every dry enough and possibly do a sort of endurance race at Lock4, maybe 4 hour or 6 hour, solo or team. Riding MB today in my winter attire reminded me of racing in the "cyclocross style" Braggin' Rights Race Mike put on this past February. That was a cold day and a surprisingly hard course. That is what this picture is from above. Basically it was "ride as many laps as you can in 30 min". The starts was next to the landing strip, you rode into the woods right before the jump section, then rode the trail until it came out to the road, turned right and headed up the road and back into the big field, around the air strip and then back to the starting line. I was spent by lap 4 and don't even remember how many I was able to do total.

We're heading to Austin, TX tomorrow for Stitch . 14 hours of driving ... woohoo! We bought Harry Potter book 6 on CD to listen to and catch up. That should help the time pass and then we'll be ready to start reading book 7 when we get back.

Good luck to everyone who is racing at Swank 65 this weekend! Maybe I'll race it with you all next year!?