I realized I never mentioned our trip to Oklahoma City here in the blog. I meant to and even thought of cool blog titles while on the trip. Unfortunately I was just too busy when we got back to Nashville and life moved on. The trip was a lot of fun. We realized that Oklahoma City isn't really all that cool of a place, it has a lot of crickets (A lot!) and the roads truly suck. If you've complained about Arkansas's roads, they've got nothing on Oklahoma! The Girlie Show was a lot of fun and was successful for Freshie and Zero. The show was in an old Farmer's Market building (pic to the left)
just outside of the downtown area. The show opened on Friday night and they had DJs and free food donated by local restaurants and cafes. Saturday was more mellow and included a bunch of bands instead of DJs. Most were not memorable except the last one. They were a Rockabilly/Punk band with a girl singer and kicked ass. EDIT: The band is called The Oh Johnny! Girls and you can check out their website here: TheOhJohnnyGirls.com Our hotel was nice but wasn't without it's quirks. Our room was in an annex from the main building and next to the outdoor pool. We had a nice warning on the back of our door.... "Caution: Door Opens Directly Into Pool Area" Apparently they were worried we'd exit the room in a our skivvies or something not realizing innocent swimmers may be just outside.
Photo's of our trip are here: Flickr: Oklahoma City Trip

This past week I went and saw a Virginia Tech football game with my brother. Roanoke was getting the same rain we had here when I got there. It was a thurs. night game and it rained the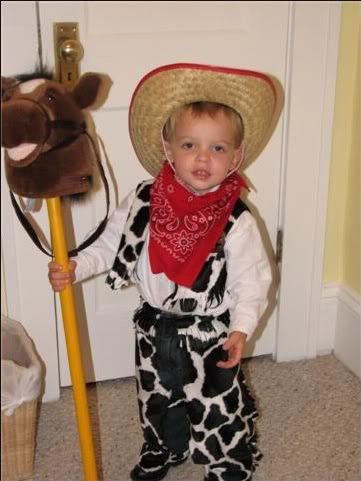 entire game. My brother (Chris) and I still enjoyed the game in our ponchos. Like most Tech games they kicked butt for 57 minutes and lost the game in the last 3 min. We got back to Chris' house around 1am where I crashed on the couch and woke up to my nephew telling Chris to "Be Quiet! Someone is sleeping!" He's 2 and a 1/2 and a chatter box now. He's entered his "why" phase and wants everything explained. He still randomly runs into the room where Chris is and blurts: "Hi Daddy!!" Then runs right back out. It's hilarious. Chris' wife is 7 months pregnant with a girl so Beth and I will have a niece in a couple months! We are all getting older and life is moving fast! I don't feel old, but being married now and talking about kids and spending time with nephews makes me feel all adult-like.... strange. What's next? Retirement planning, house, wills?? Started the first one already, planning the second and should probably make a will at some point.

Beth and I drove up to Indianapolis this past weekend for another show. Unfortunately this one was a bust. The first bad show all year. Money wasn't lost, but very little profit was made. This coming weekend we are driving down to Alabama for the Moss Rock Festival and then Austin, Texas the next weekend. With all these out of town shows, Thanksgiving is going to be a welcome break. Unfortunately it will involve more traveling as we'll be celebrating it in Syracuse, NY with my family.


Beth and I skipped all of the Halloween festivities this year. I don't get very excited about it anymore for some reason. I think it's mainly because I wait too long to come up with a costume idea, and I never want to buy a $50+ costume that will just be worn once. Beth wasn't excited about it this year either. She blamed being out of town so much lately and having too much on her plate. We were gonna speed back from Indianapolis on Sat and go to a party but decided it wasn't worth it and then found out the party was canceled anyhow. Maybe next year I'll get inspired early. It's hard to beat my Paris Hilton costume 2 years ago. . . it was pure perfection.